About Us
Pralshar Bio Products Pvt. Ltd. A company incorporated in the year 1993 having the registered office at Goa, Promoted by Late Mr. P.V. Chaudhari. The Bio-extract organic product is the patented technology of CSIR-NIO, Goa: The Natioanl Institute of Oceanography, a constituent research institute of CSIR under the Ministry of Science & Technology (Government of India), Goa. (राष्ट्रीय समुद्र विज्ञान संस्थान)
The objects for the company established are :
To produce, promote, establish and develop its own research and microbiological products in India.
To manufacture biofertilizers, biopesticides, plant growth regulators, agrochemicals and to obtain the necessary know-how required for the said products.
To carry on the business of manufacturing, distributing, importing, exporting, selling, stocking and otherwise dealing in all types of agro inputs i.e. agrochemicals, fertilizers, biofertilizers, biopesticides, plant growth regulators, seeds etc.
---
Company Profile
Pralshar Bio Products Pvt. Ltd. Goa, India, was incorporated in the year 1993
Started commercial production of their star product Plantozyme in Goa unit.
Management: Pralshar Board of Directors comprise well experienced persons diversified in fields such as manufacturing, Research and Development, Marketing and Administration.
Pralshar's main promoter and the man behind the success of Pralshar was Late Pralhad V. Chaudhari fondly known as "Balasaheb". He was an agricultural graduate with many years of experience in marketing of agri inputs.
Balasaheb had a strong faith in Plantozyme and the technology behind that. This faith made him to establish Pralshar and that faith only gave him strength to travel lakhs of kilometers in the fields to convince farmers about the importance of Plantozyme in increasing their crop yields.
In other words, whatever Pralshar is today, the credit goes to Balasaheb.
Late P.V. Chaudhari was Chairman and Managing Director of Pralshar till his sad demise.
---
Board of Directors:
SWAPNIL PRALHAD CHAUDHARI. (MANAGING DIRECTOR)
NIKHIL PRALHAD CHAUDHARI. (DIRECTOR)
Dr. B.V.S.T. SAI. (DIRECTOR)
S.N.CHAUDHARI. (DIRECTOR)
---
Awards :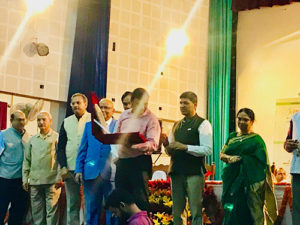 Nikhil Pralhad Chaudhari, (Director, Pralshar Bioproducts Pvt. ltd.) is receiving Amit Padam Jagriti Award from the hands of honourable Director general ICAR Dr. Trilochan Mohapatra at GBPUA&T Pantnagar, Uttarakhand, India in International Conference on Innovative Horticulture and Value Chain Management – Shaping Future Horticulture.